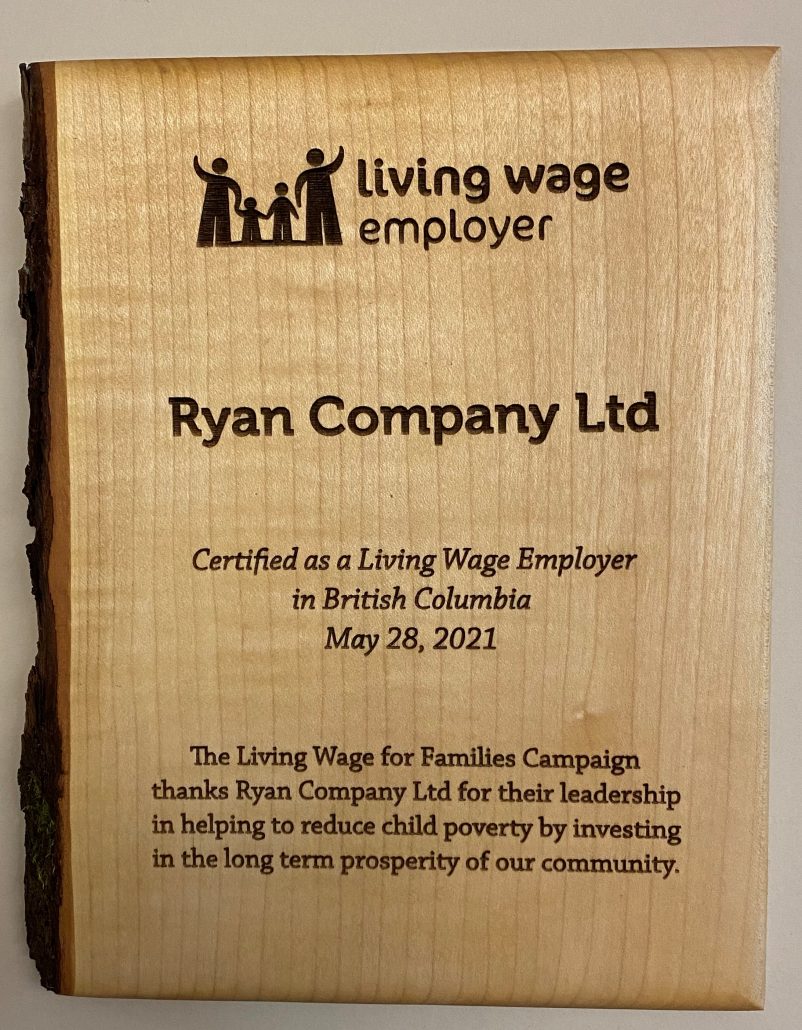 We are so proud and excited to announce that Ryan Company Ltd is the first vending company in Canada to become a certified Living Wage Employer!!
"Certifying as a Living Wage Employer is a voluntary commitment employers make to invest in their communities and local economies. There are nearly 250 Living Wage Employers in BC, with over 25,000 employees who don't need to worry about how they will afford rent, food and other essentials for their family because they are guaranteed to earn a Living Wage." – Living Wage for Families Campaign page
At Ryan's we truly believe in empowering our people, providing them with the means and resources to succeed both at work and in their personal lives. To support this, we have committed to pay a living wage in the many years past and are so pleased to have this recognized in our recent certification as a Living Wage Employer.
"The Ryan Vending ownership and managers are thrilled to be recognized as the first Living Wage Certified vending company. As a fourth generation, family owned and operated company we believe in supporting our employees in maintaining a healthy work-life balance – we do this by ensuring our employees are paid fairly so they can support their families, providing flexible scheduling options, and promoting a supportive and diverse work environment. We are pleased to see our employees be part of flourishing communities throughout BC and feel this investment in our people is a pillar of the companies' success." – Ryan Vending
About the Living Wage certification and what this means follows:
"A LIVING WAGE LIFTS WORKING FAMILIES OUT OF POVERTY
A living wage is different than a minimum wage. The minimum wage is the legislated minimum set by the provincial government. The minimum wage should be set at a rate high enough to lift an individual worker out of poverty. An adequate minimum wage is the government's responsibility to address working poverty.
A living wage is an opportunity for employers to do better. A living wage calls on employers to meet a higher standard for their both staff and major contractors, to ensure that wages reflect the true costs of living in a community and that parents can earn what they need to support their families. More than 200 Living Wage Employers across BC agree and have certified with the Living Wage for Families Campaign.
The Living Wage for Families also advocates for policies that would positively impact families. We support the call for quality and affordable child care as well as for housing policies that would help low-wage families make ends meet."
"We're delighted that Ryan Vending has certified as a Living Wage Employer. Paying a Living Wage is good for the employer, the employee and the local community. We invite other employers to join the Living Wage movement," said Anastasia French, Living Wage for Families Campaign Organizer.
To see the media release please go to
https://www.livingwageforfamilies.ca/ryan_vending

https://ryanvending.com/wp-content/uploads/2014/05/logo2.jpg
0
0
Leanne Fleming
https://ryanvending.com/wp-content/uploads/2014/05/logo2.jpg
Leanne Fleming
2021-06-30 10:14:53
2021-07-05 13:21:43
Ryan Company Ltd Becomes Living Wage Certified!